K-Machine & Tool is an aggressive, competitive, well-established business. It was started in 1968 at its present location by Kenneth E. Miller. In 1986, ownership was transferred to Kenneth P. Miller & Terrence L. Remlinger. Between them they have over 50 years of experience. Since 1986, K-Machine has doubled the production space and added CNC Lathes, CNC Mills, and a controlled enclosed environment for our inspection area.
FACILITIES
Our capabilities include fab-work, proto-types and assemblies and production runs with tolerances ranging from fractional to + .0005.
To the right are examples of items often machined or manufactured
VALVE PARTS
Valve Balls, Valve Stems, and Valve Seats. All within commercial or government specifications.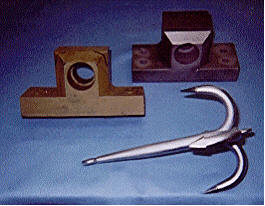 WAX CASTINGS – Waxes for Prototype Investment Cast Parts and Waxes for one-time castings such as Extruder Dies.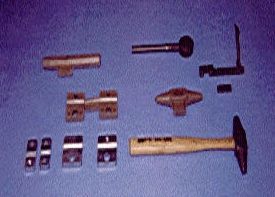 CASTINGS – Balls, Pump Impellers, Manifolds, Stems, Diaphragms. All types of sand and investment castings, ferrous and non-ferrous metals.
REPLACEMENT PARTS FOR PRODUCTION INDUSTRY – Mandrels, Rollers, Pump Shafts, Bushings, and Tapered Pins.
ELECTRONIC PARTS – Spark Gap Assemblies, Spring Contacts, Filament Connector Assemblies, and Cable Assemblies

Competitive
Pricing

Personal
Service

Timely
Delivery
Same Location
40+ years !
Customers include
Private Business'
Local Industry
& Government
Custom Work
or
Production Work
One piece or 1000, Send your specs and we'll talk !