K-Machine & Tool is an aggressive, competitive, well-established business. Open for business in 1968 at its present location by Kenneth E. Miller. In 1986, management was transferred to Kenneth P. Miller. During the following 35+ years K-Machine has doubled the production space and added CNC Lathes, CNC Mills, and has a controlled enclosed environment for our inspection area. Our capabilities include fab-work, proto-types and assemblies and production runs with tolerances ranging from fractional to + .0005.
K-Machine & Tool Inc. proudly serves all corporate,
government, and private business concerns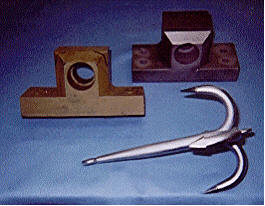 VALVE PARTS – Valve Balls, Valve Stems, and Valve Seats. All within commercial or government specifications.

CASTINGS – Balls, Pump Impellers, Manifolds, Stems, Diaphragms. All types of sand and investment castings, ferrous and non-ferrous metals.

REPLACEMENT PARTS FOR
PRODUCTION INDUSTRY
Mandrels, Rollers, Pump Shafts, Bushings, Tapered Pins.

ELECTRONIC PARTS
Spark Gap Assemblies, Spring Contacts, Filament Connector Assemblies, Cable Assemblies